Skip to Content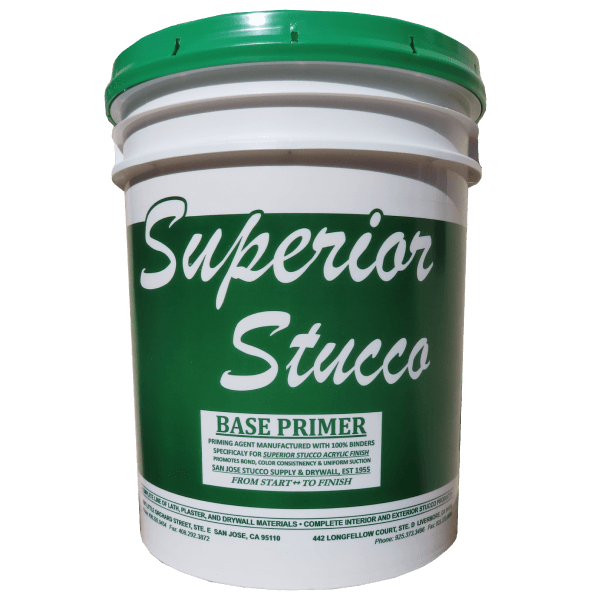 Base Primer Specialists in San Jose, CA
Trust the Experts at Stucco Supply Co.
Since 1955, residents and business owners in the San Jose, CA area have relied on the team at Stucco Supply Co. to help with all the necessary materials for repairs, maintenance, and application of stucco products on their buildings. We are the largest and oldest stucco manufacturer in Northern California and only aim to give you everything you need in terms of services and materials. When applying Acrylic Finish to your stucco base coat, one of the main components on the list of materials needed is our Superior Stucco Base Primer. Our sales staff have the experience you need when looking to give your walls a classic look. We also can supply you with the materials needed to repair and replace any existing stucco that may be falling to the wayside to rejuvenate the façade of your building and give it the curb appeal you so desire. Give us a call today, and we would be happy to help in any way and give you an honest and upfront estimate for all stucco materials needed.
Where and How to Use Base Primer
To have a successful acrylic stucco application, you need to begin with a stellar base, and our Superior Stucco Base Primer allows us to do just that for your home, our office. Applying base primer on your stucco base coat works to help preserve the finish over the years from natural and unnatural wear and tear. While most other stucco service providers forget or forego this step altogether, the team at Stucco Supply Co. relies on it to provide expert finishing to stucco projects and give your wall longevity. We can apply our base primer to any of the following substrates for superior protection and look:
Superior Stucco Base Coat
Superior Stucco Uniwall – One Coat Stucco (CI Base)
Brown Coat
Stucco
CMU, Poured-in-Place, and/or Tilt-Up Concrete and Masonry
Drywall/Gypsum Sheathing
The Stucco Supply Co. Application Process
Before applying the Acrylic Finish, we recommend you use our Superior Stucco Base Primer to give your acrylic stucco an even longer lifespan and protection. Below are the steps we take to ensure your surface gets the best protection from our base primer.
Surface Preparation: To ensure our materials are appropriately applied, we will need to free the area of
any dirt, debris, efflorescence, grease, oils, curing agents, and cleaning solutions. Once completely dry,
the stucco contractor. can begin working on your surface. We recommend repairing any cracks or other
issues before applying the base primer to secure the bond.
Mixing: One of the most essential steps in the application process is mixing. This assists in giving you a
nice clean surface without dry spots, clumps, or other imperfections. It is especially important when
adding color to your base primer. If you are looking to add our base primer to spray equipment, make
sure you follow the steps on the package. You can also reach out to Stucco Supply Co. with any
questions.
Application: When it comes to application, you have a couple of different options to get the job done.
The tools at your disposal include brushes, rollers, and sprayers. Each comes with their own unique
benefits and can help you achieve the desired look. After completing the first two steps, apply base
primer directly to the substrate and avoid puddling the material.
Drying: Drying time will vary based on if applied on the interior or exterior of your building and the
weather impacting your area at the time. Ideal conditions are sunny, clear skies. It is not recommended
to apply if rain is present or in the near forecast. Try to keep the walls covered best you can when rain is
present, if necessary.
Benefits of Applying Superior Stucco Base Primer
The main benefit you will experience by applying the Superior Stucco Base Primer is giving your Acrylic Finish the best chance at survival. Our base primer was designed to help you save time and allow your walls to look their best for as long as possible. It will also provide better suction and safeguard your walls from moisture to prevent mold and mildew from causing unseen damage and health issues to your respiratory system.
Reach Out to Stucco Supply Co. Today for More Help!
When you have a stucco project in mind, call on the professional team at Stucco Supply Co. for all the help you need with guidance and supplies like our Superior Stucco Base Primer. We have been assisting DIY-ers in the San Jose and Livermore area for over 60 years. We bring expert equipment, materials, and supplies to each and every project. You can also count on us for all your drywall, plaster, architectural foam, and other building product needs. Reach out today and get the answers you need when working yourself or when you need a team of professionals to complete the project.
Your One-Stop-Shop for All Your Stucco, Lath, Plaster, and Drywall Needs